Elect Hector
Running for Connecticut's 151st District
I am running for State Representative for the 151st because Greenwich needs a strong, fiscally responsible, compassionate leader in Hartford. With COVID-19 overwhelming our communities and our economy, I want to support and strengthen our local merchants, make sure our residents get the town services they require, and reinvigorate our economy by attracting new business to Connecticut.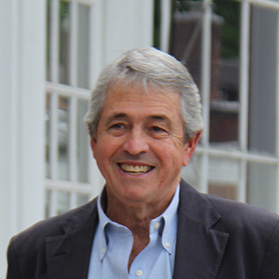 I am determined to help our community by bringing my expertise in finance and banking to provide smart solutions to complicated fiscal problems; in addition to continuing to work with our community's volunteer and social service agencies. I am running to ensure that the issues we are all facing during this unprecedented time are tackled head on by a State Representative who is fully committed to working tirelessly and wholeheartedly in Hartford for all the residents of the 151st District.
Who I Am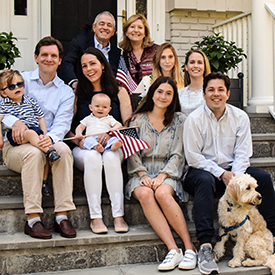 I'm a numbers guy. I've been a successful banker my whole career. I know how to solve problems and create value.
International Financier for 40 years
CEO & Board Member, Banesto Banking Corporation NY
Trustee and Executive Committee Member of the Institute of International Banks in New York
Co-Founder of the Inter-American Financial Institution
BA in Business — Catholic University, Buenos Aires, Argentina
Advanced Management – Wharton School – UPenn
Proud father of four children: three GHS grads and one sophomore
RTM District 8, Delegate to Finance Committee, Alternate on the Claims Committee
Actively involved In Greenwich Life: PTA, GHS, GCDS Sustainability Committee, GYSL Soccer Coach, Greenwich Conservation Commission volunteer – Mianus River Fish Ladder
Greenwich Free Press Profile
June 15, 2020 —
Reprinted with permission.
Greenwich Democrats have selected Hector Arzeno, a retired banking executive, to be their candidate for State Rep in the 151st district.
Arzeno challenges Republican Harry Arora who won a special election four months ago to fill the spot vacated by Fred Camillo when he became Greenwich First Selectman.
Arzeno and his wife Paula Picco, an outreach clinician at Family Centers, have a daughter Isabel, a sophomore at Greenwich High School.
Arzeno's three adult children all attended GCDS and Greenwich High School. Two of them have settled nearby in Cos Cob and a third lives in New York City.
Mr. Arzeno, who was born and raised in Argentina, said he has been active in the Greenwich community since 1987, though he has not lived in town in consecutive years, having worked overseas and returned to town more than once.
"I moved to the US in 1974, and spent 1978-80 in London. Then I came back when my eldest was about to be born," he said.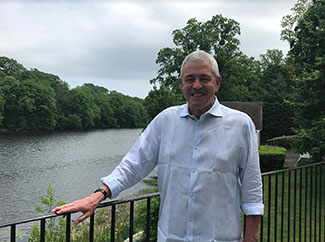 Arzeno's 40-year career in banking included a post as President and CEO of Banesto Banking Corporation in New York, a wholly own subsidiary of Banco Español de Credito, then the largest bank in Spain.
Arzeno has a Bachelors Degree in Business Administration from the Catholic University of Argentina and completed the Advanced Management Program at Wharton in Philadelphia.
Having retired from his career in finance in 2013, and with roots in town, the Arzenos recently built a new house on Valley Rd overlooking the Mianus River.
Arzeno said he is enjoying volunteering and his recent foray into politics. "I spent my 12 years of elementary and high school at a boys Jesuit school," he said. "Service is part of the Jesuit value system and teachings."
He recalled how as a university student in Argentina he was awarded a trip to the US that included visits to Washington DC, New York and Boston. "I knew then that some day I wanted to live in the US," he said.
"It was very interesting time to travel here. It as during the Civil Rights movement," he said, recalling that he met Black Panthers at Harvard University where they had organized a debate.
"Now that I am retired I'm doing the things I always wanted to do, but didn't have the time," he said.
Arzeno who speaks English and Spanish, volunteers as a tour guide at Greenwich High School where he said he escorts new families through the campus.
He said he also enjoys volunteering for the Town's Conservation department monitoring program at the Mianus Pond Fish Ladder.
He is also a member of the RTM for District 8.
"The RTM should be non partisan," he said, adding, "Members should put their political views aside."
Last week Arzeno voted in favor of the SOMR for funding Greenwich Schools. He said he believed the town should use its rainy day fund so the district wouldn't have to cut staff and teachers.
Describing himself as "a big defender of public schools," particularly Greenwich High School, Arzeno said he knows that families move to town for the public schools.
"Yes, we can talk about how beautiful Greenwich is, and how close it is to New York City, but many move here, including myself, because of the school system," he said. "It's one of the best in the country, and certainly there is competition in Westchester County and Fairfield County."
"Volunteering as tour guide at GHS allows me to hear the families coming of the city and other places who are relocating to the northeast. They are either working in New York City or maybe in Stamford. When they look for a place to live, they look for the school system. It's one of the first things they do. When you listen to these parents, just as in the 1980s when I moved to Greenwich – the school system was certainly a priority."
"The advantage of being a tour guide is I have listened to the comments of young mothers about infrastructure, buildings and teaching. We have tough competition with Darien, New Canaan and Westport."
Arzeno said prior to registering in Town as a Democrat, he was unaffiliated.
"Once upon a time, in the 1980s, I was a registered Republican. I have voted for Republican candidates, but I have voted for Democratic candidates too," he said. "As much as I voted for George HW Bush, I voted for Al Gore later on."
Today, he said, "I am much closer to the views of the Democratic party then the Republican party."
Arzeno, who will participate in the Citizen Election Program, noted that Mr. Arora has only held the office for a few months.
"I think that I have a very good chance because I have been involved with the town for many years," Arzeno said, noting he has been a youth soccer coach, PTA member and volunteered in the GHS Science Dept making photocopies and serving as a school tour guide.
Also, he said, "I think that in the Presidential election you'll probably have a big turnout and I hope to reach those voters."
"I believe I know Greenwich, having lived here many years. My children grew up in Greenwich and people know me. I am just running on my background, experience and my value of service and pursuit of justice."
"My goal is for people to look at me as a person, and ask, 'How do I know you?' 'What have you done for Greenwich?' 'What do you know about Greenwich?' That is what I am selling."
"We'll need to attract new businesses to Connecticut and we have a heck of a good opportunity," he continued. "Many people and businesses are moving out of New York City. But we have budgetary issues and I hope to bring my economic and financial background to the job. I am running with my heart."
"I will absolutely participate in a League of Women Voters debate," he said, adding he anticipates the Covid-19 pandemic and its aftermath will impact the work of the State Representatives.
"All my thoughts are with the people who lost family in Connecticut and in the US. I will be working hard in Hartford to support the people who have been impacted by the pandemic. I hope we will recover quickly."
Arzeno added that he hoped the schools budget will no be a campaign issue.
"The public school system is the backbone of Greenwich," he said. "It's something we have to protect, enhance and fight for. Fiscally I am very conservative, and certainly I will be the best one to fight for our dollars. We're in a difficult situation. I think I can help in my community with my expertise in banking. We have complicated fiscal problems that we have to solve altogether."
"If I am elected and go to Hartford I'll work strongly for Greenwich's needs."
"I have the energy and I will certainly work hard. I have the time now that I am retired, and I am fully committed to work tirelessly and have all the backing of my family," he added.
Arzeno praised both Greenwich First Selectman Fred Camillo and Connecticut Governor Ned Lamont for their leadership during the pandemic.
"I think I am optimistic on the recovery and final outcome of Covid-19. We cannot deny there will be impacts, but I personally believe that the 2008 financial crisis will probably have had a greater impact," he said. "We'll have to work hard."
Volunteer
Will you volunteer to help Elect Hector as our State Representative for the 151st District in Greenwich?